Door Lock Change In Boston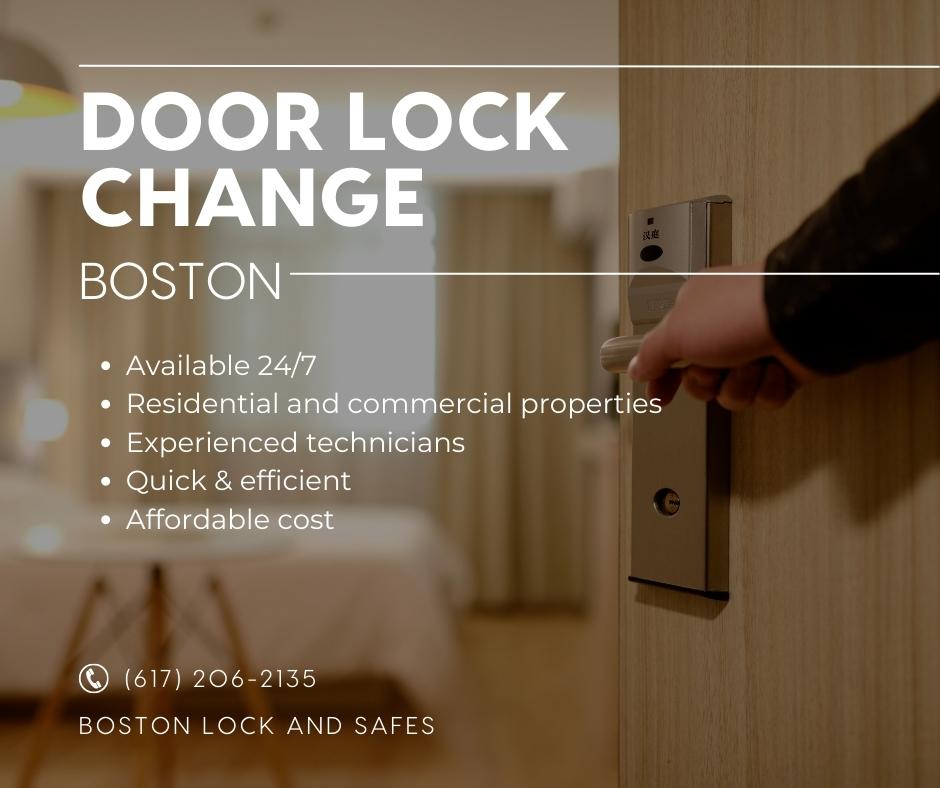 Are you having trouble with your door locks? Boston Lock And Safes can help.
We specialize in door lock change services for residential and commercial properties. Our team of experienced technicians is available 24/7 to take care of any problem you may have. We understand that having a broken lock is a considerable inconvenience, so we make it our mission to get the job done quickly and efficiently.
We also offer a variety of other services, such as rekeying, installation, and repair. We use only the highest quality locks and equipment, so you can be sure your property is secure.
When Should You Have a Lock Change In Boston?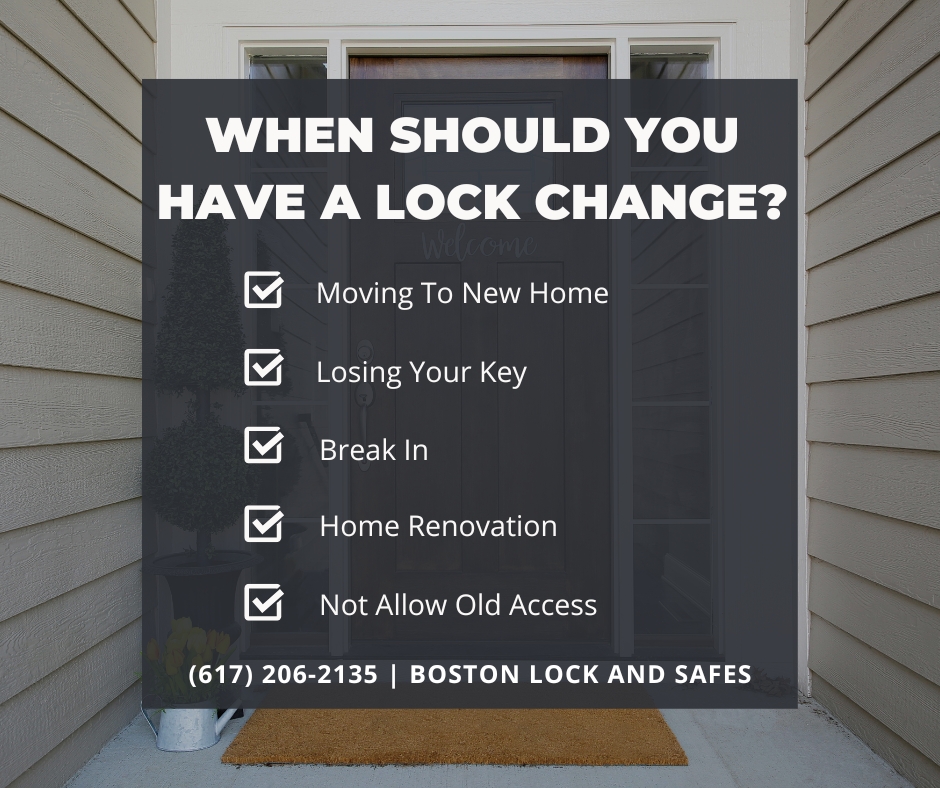 There are a few reasons why you may need to have your locks changed.
Moving To New Home
If you've just moved into a new home, it's important to change the locks, so you know that only you and your family members have access to your home.
Losing Your Key
If you've recently lost your keys or if someone has stolen them, it's important to change the locks so that no one else has access to your home.
Break In
If you've recently had a break-in, changing the locks is important so that the same person can't gain entry again.
Home Renovation
Suppose you've just had a major renovation done on your home. In that case, it's important to change the locks so that any contractors who may have had access to your home no longer have access.
Not Allow Old Access
If you've recently shared a key with someone and that person is no longer allowed access to your home, it's important to change the locks.
What Types Of Door Lock Change Solutions Do We Offer In Boston?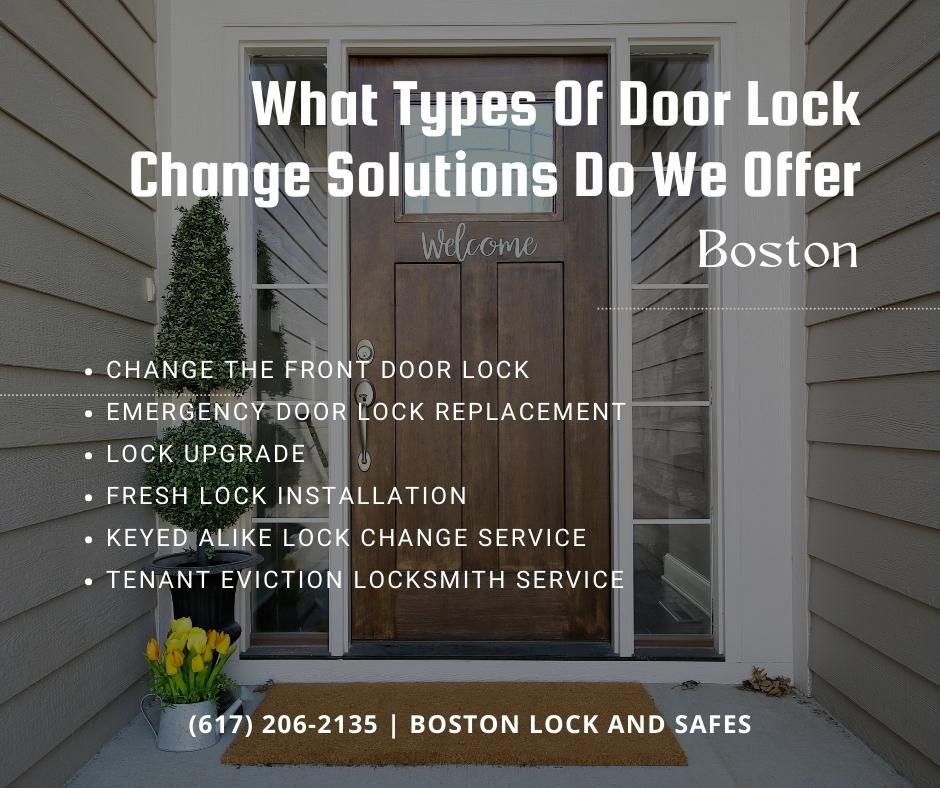 Change The Front Door Lock
Boston Lock And Safes offers a convenient service to change the front door lock of your home or business. This service is available 24/7 and provides experienced professionals to change any type of lock, including combination locks.
Emergency Door Lock Replacement
We can help you in a variety of emergency situations, including property lockouts, missing keys, faulty lock mechanisms, a damaged key within the lock, break-ins, and so on.
Lock Upgrade
At Boston Lock And Safes, we understand the importance of protecting your home or office from intruders. That's why we offer a comprehensive lock upgrade service that can help to make your property more secure. Our experienced technicians will assess your current locks and determine which models are best suited for an upgrade. We carry a wide selection of high-quality, secure locks from trusted brands such as Schlage, Yale, and Kwikset. With our lock upgrade service, you can rest assured knowing your property is well protected.
Fresh Lock Installation
With our experienced and knowledgeable staff, we can provide you with the best security options for your home or business. We specialize in providing high-quality locks that are designed to last, giving you peace of mind knowing that your property is safe and secure. Our team can also help you choose the perfect lock for your particular situation, making sure to take into account factors such as security level, budget, and design preferences. With our fresh lock installation services, you can have complete confidence that your property is well protected.
Keyed Alike Lock Change Service
Boston Lock and Safes provides a keyed alike lock change service for its customers. This service allows you to change the locks on all of your doors without having to worry about having multiple keys. The keyed-alike service ensures that the same key will open all of the customer's locks, eliminating the hassle of carrying around multiple sets of keys. Furthermore, our experienced staff can help customers with any questions or concerns they may have when it comes to changing their locks.
Tenant Eviction Locksmith Service
Our experienced and knowledgeable team of locksmiths can assist you with the eviction process, whether it is a residential or commercial eviction. We can provide lockout services, rekeying of locks, change of locks, and key duplication services to ensure that your property is secure once the tenant has been evicted. With our fast response times, you can rest assured that your tenant eviction locksmith service needs are taken care of quickly and efficiently.
Door Lock Change Services Procedure
The door lock services procedure is a comprehensive set of steps designed to ensure that all locks are properly serviced promptly and efficiently.
Step 1: Contact a qualified locksmith by phone or through the website to arrange an appointment. Pick a time that suits you best!
Step 2: Our expert lock technicians, equipped with all the necessary tools and accessories, will be dispatched to your specified address.
Step 3: Our technicians will inspect the existing locks and determine if they need to be repaired or replaced.
Step 4: We will identify any security issues that need to be addressed, such as worn-out parts, broken mechanisms, or missing components.
Step 5: We will install new locks and/or repair existing ones.
Step 6: We will test each lock to make sure it functions correctly and securely before reinstalling it.
The door lock services procedure can help keep your home or business secure and provide peace of mind for homeowners and business owners alike.
Why Choose Us?
Professional Service
Boston Lock and Safes offers professional and reliable door lock change services that are tailored to meet your specific needs. Our experienced technicians are skilled at changing door locks of all shapes and sizes, so you can be sure that the job will be done right.
High-Quality Products
Boston Lock and Safes only use high-quality lock products, so you can be assured that your new locks will keep you safe and secure.
Affordable Pricing
Boston Lock and Safes provides competitively priced services, so you can be sure that you are getting the best value for your money.
Flexible Hours
Boston Lock and Safes is available 24 hours a day, 7 days a week, so you can get the door lock change service you need when it is most convenient for you.
Fast Response Time
Boston Lock and Safes can usually arrive within an hour or two of your call, so you don't have to wait for long for them to arrive.
Quality Assurance
Boston Lock and Safes offer a warranty on our workmanship, so you can be confident that your locks will last for years to come.
Contact Us
If you're in the Boston area and need help with your door locks, give us a call at (617) 206-2135 now!