Locksmith Service in Boston
Boston Lock and Safes is a locally owned and operated locksmith business in the Boston area. We specialize in residential, commercial, automotive, and safe locksmith services. Our goal is to provide quality service and customer satisfaction with every job we do. We are committed to providing the best locksmith service available in the Boston area. Our staff is highly trained in all areas of locksmithing and is knowledgeable about the latest technologies and products. We offer 24/7 emergency service and a wide variety of security products and services. We guarantee our workmanship and are fully licensed and insured.
Call us at (617) 206-2135!
Our Services
At Boston Lock And Safes, we provide a range of services for commercial, residential, and car locksmith needs.
Commercial Locksmith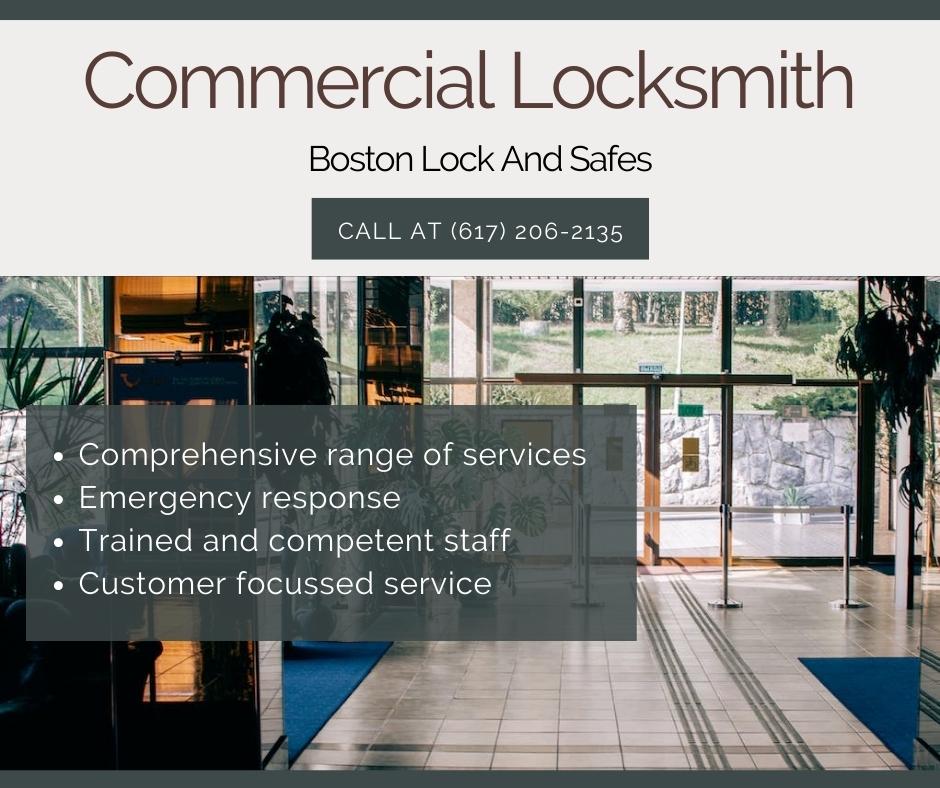 At Boston Lock And Safes, we understand the complexities of business security needs and can provide tailored solutions to meet the specific requirements of each client. With our expertise and knowledge of current trends in the security industry, we can help your business keep its property safe from theft and vandalism. No matter what kind of security needs your business may have, we can ensure that you're well-protected.
We provide a full range of commercial locksmith services, including:
Master key systems
Locks changed & rekeyed
Keys duplicated
Keys by code
Door closers
Exit devices
CCTV and access control
Emergency service
Electronic locks
High-security locks
Residential Locksmith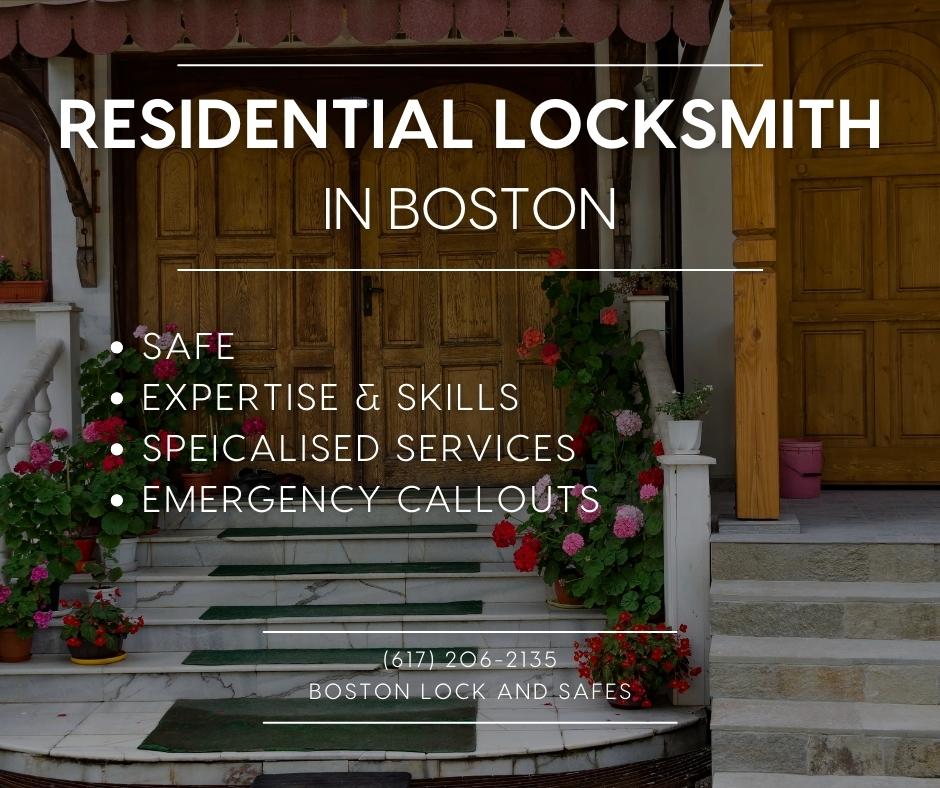 Boston Lock And Safes are a professional in installing, repairing and maintaining locks, door hardware and security systems in residential settings. We can help homeowners to secure their homes quickly and efficiently by installing locks on doors and windows, setting up alarm systems, and providing advice on home security. We also provide emergency services in cases such as lockouts or broken keys, helping you get back into your homes quickly and safely. With our expertise, residential locksmiths are invaluable to any homeowner looking for reliable and trustworthy security solutions.
We offer a wide range of residential locksmith services, including:
Rekeying services
Deadbolt installation
Doorknob and lever installation
Decorative handle set installation
Window and sliding glass door solutions
Emergency lockouts
Lever lock or push button lock installation
Car Locksmith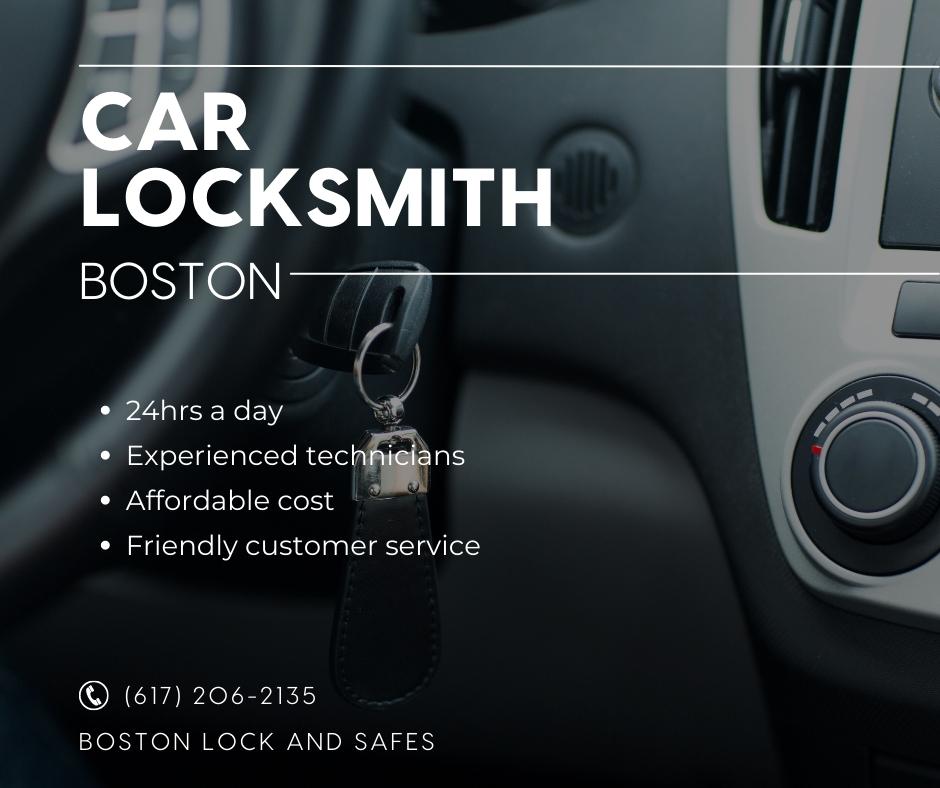 If you ever need a car locksmith, look no further than Boston Lock And Safes. We are proud to offer the most reliable and professional locksmith services for all makes and models of vehicles. Our experienced technicians are equipped with cutting-edge tools and technology that allows us to quickly and efficiently solve any lock or key issue you may have. We are available 24/7 and provide fast response times so you can get back on the road as soon as possible.
We offer car locksmith services, including
Car door unlocking
Computer chip keys programmed
Electronic locks installed or repaired
Emergency lockouts
Ignitions repaired or replaced
Keys made
Locks changed
Locks re-keyed
Locks repaired
Transponder keys made
Trunks unlocked or opened
Remote programming
Service Areas: Boston Area
What To Expect at Boston Lock And Safes?
Professional and Experienced Technicians
Boston Lock And Safes have a team of highly-trained, experienced locksmiths and security professionals who can handle any job with ease. We are knowledgeable in the latest lock and security technology, providing customers with the most reliable service.
Latest Technique
We use only the highest quality products and equipment. Our technicians are well-versed in the latest security technologies, so you can be sure that your locks and other security systems are up to date and functioning properly.
Wide Range Of Services
Boston Lock And Safes provides a wide range of services, from lock installation and repair to high-security safes and electronic security systems.
Quality Products
Boston Lock And Safes only use the highest quality products for all of our services. From locks to safes, we offer top-of-the-line products to ensure the best possible security.
Professional Service
Our team offers personalized service with a commitment to delivering quality workmanship in a timely manner.
24/7 Support
Boston Lock And Safes are available 24/7, so you can be sure that help will be there when you need it. We understand the importance of ensuring that your locks are installed quickly and properly. We strive to provide you with fast turnaround times so that you can feel secure right away.
Affordable Cost
Boston Lock And Safes offer competitive prices on all of our services and products. With our low rates, we make it easy to get the security you need without breaking the bank.
Contact Us
For all your locksmith needs in Boston, don't hesitate to give us a call at (617) 206-2135. We look forward to hearing from you!
FAQs
Do Boston Lock And Safes offer emergency services?
Yes, we do offer emergency services. We understand that some problems cannot wait until regular business hours, and so our emergency service is designed to be available when you need it most. Our team of dedicated professionals is on call 24/7 and can be dispatched quickly and efficiently to your location. Our emergency services are fast and reliable, ensuring you get the help you need as soon as possible. Rest assured that you can count on us for quality emergency services whenever you need them.
Are your locksmiths certified at Boston Lock And Safes?
Yes, our locksmiths are certified and highly trained professionals who can handle any locksmith job. We take pride in the quality of service we provide, and all our locksmiths have passed rigorous tests to ensure they are equipped with the right skills to provide a reliable, secure and professional service. Our locksmiths are also certified by the relevant trade association, which provides assurance that they abide by the highest standards of safety and security.
Do Boston Lock And Safes offer discounts for military or senior citizens?
Yes, we offer discounts for military personnel and senior citizens! We recognize the immense sacrifices made by our nation's heroes and are proud to offer them a discount on our products and services. For senior citizens, we offer special discounts for their many years of experience and hard work. To take advantage of either of these discounts, please present your military or senior ID at checkout. Thank you for your service, and we look forward to providing you with an excellent shopping experience!
Are your products insured against damage or theft at Boston Lock And Safes?
Are you concerned about the safety of your products? If so, we have you covered! Our products are insured against damage or theft, providing you with peace of mind when it comes to the security of your investments. With this insurance, you can rest assured that you won't be out of pocket if something happens to your products. We make sure your products remain safe, no matter what!